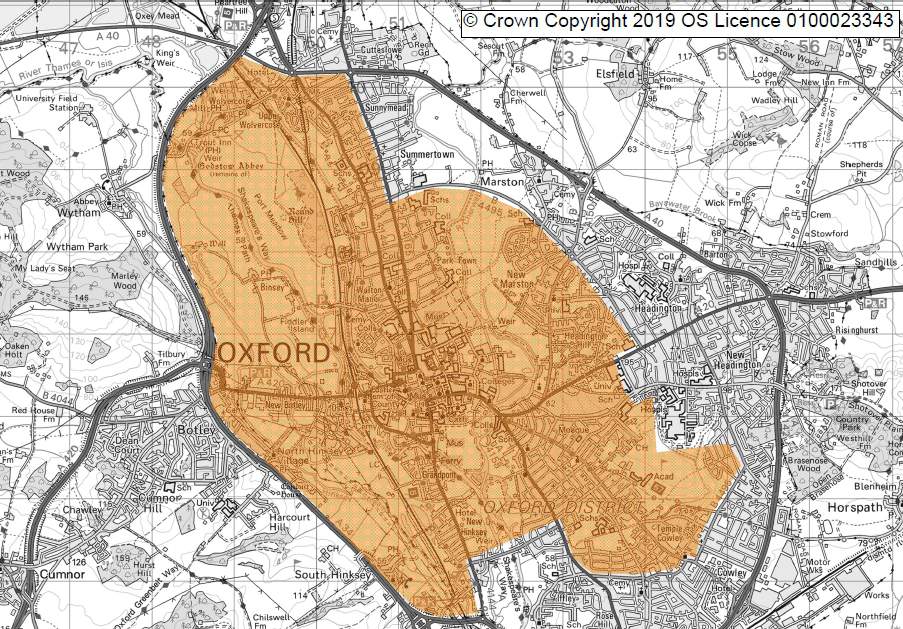 Buses would need to have a minimum Euro 6 standard engine.
Oxford City Council and Oxfordshire County Council have announced plans to extend the zone, to try and reduce toxic emissions.
They're making an application to the traffic commissioner to set up a new Low Emission Zone, which would cover a wider area from 2020.
Two of Oxford's worst offending roads for nitrogen dioxide, St Clement's Street and High Street, would be included in future.
NO2 levels there are currently above the legal limit.
Real world testing of the latest Euro 6 standard engines demonstrates a 99.5% reduction in oxides of nitrogen (NOx) emissions compared with their older Euro 5 counterparts.
Oxford's bus providers have been consulted on the proposal.
Chris Coleman, Managing Director, Stagecoach, said: "We support the intention behind low emissions zones and are very clear that buses and coaches are a key part of the solution to the air quality crisis.
"We continue to invest heavily in cleaner, greener vehicles and will soon introduce a fleet of 21 new buses on the S1 and S2 services between Carterton, Witney and Oxford."
A Euro 5 Low Emission Zone for buses has been in place in Oxford city centre since 2014.
Data from the City Council's 74 air pollution monitoring locations has shown that between 2016 and 2017, levels of toxic nitrogen dioxide fell by an average of 22.7% - the largest ever year-to-year drop.
Councillor Tom Hayes, Oxford City Council's Cabinet Member for Zero Carbon Oxford, said: "This new Low Emission Zone will be a life-saver. Vehicles are polluting our air and making people sick.
"This Council has to slash pollution levels in order to prevent ill health and stop early death, and the bus operators have a role to play.
"Not only will the new Zone cover a large part of the city, but some of our most air-polluted roads, especially St Clement's, will see cleaner buses traveling along them.
"I'm particularly pleased that local operators are working with the Council on this Zone and, thanks to funding secured by the Council, retrofitting 115 buses to the right standard and will be introducing five electric buses in 2019."
Oxford City Council is working with providers including Oxford Bus Company, Stagecoach and Arriva to retrofit their buses to Euro 6 standard.
It's secured £2.3m from the Government's Clean Bus Technology Fund to help with the upgrade.
Phil Southall, Oxford Bus Company, said: "We welcome the proposals and the pragmatic approach taken in developing them.
"Oxford Bus Company has been proud to play its part in reducing harmful emissions in our City for many years and strives to be at the forefront of environmental improvements as technology evolves.
"Attention now needs to be focused on other, more polluting modes to play their part too."