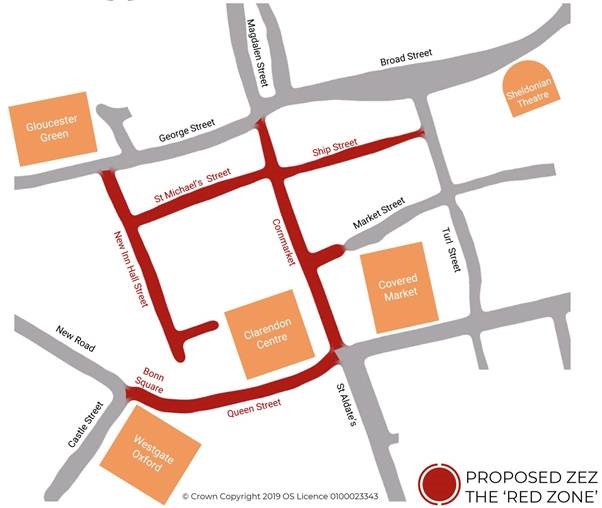 It will see a £10 daily charge introduced for non-zero emission vehicles in the City Centre.
The proposed 'Red Zone' (pictured right) will cover a small part of the very centre of Oxford, including Queen Street, New Inn Hall Street, St Michael's and Cornmarket.
But Oxfordshire County and Oxford City Councils expect the Zero Emission Zone to expand into a larger area either next year or the year after.
The red zone is currently due to be introduced from December 1st this year and would charge £10 per day between 7am and 7pm to non-zero emissions vehicles.
The charge will rise to £20 a day in late 2024 (more on the fees at the bottom of this page).
It'll be enforced by automatic number plate recognition cameras and drivers will have until the end of the next working day to pay the bill with a £120 fine waiting for those who don't pay in time.
The small area covered by the red zone is the first phase of a council plan which covers the next 15 years. It'll see the red zone expand into a larger green zone cover most of the city centre by the end of 2022.
There's more information on the Council's plans in this video...
When it was first announced Oxford's Zero Emissions Zone was hoping to become the World's first, however, since then Madrid has beaten the city to the punch.
Today's announcement is an expansion on plans first published in 2017.
Since then more than 750 residents and businesses have taken part in consultations with about 70% backing the Zero Emissions Zone.
The plans - which are all about reducing Oxford's toxic air pollution levels and improving the city's health - are now back out for public consultation.
A Green Zone is proposed for the rest of the city centre and will come in in 2021/22, with daily charges for high-emission vehicles.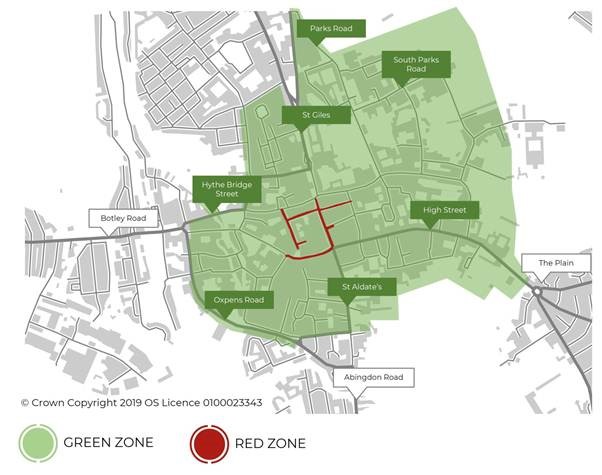 Key points:
The introduction of a charging scheme in the Red Zone between 7am-7pm, with a £10 charge for non-compliant vehicles entering the zone.

Discounts for all blue badge holders entering the zone until December 2024.

Exemptions for businesses registered in the Red Zone until December 2024, followed by a discount until December 2030.

A 90% discount for residents living in the zone until December 2030.

Buses and Oxford licensed Hackney Carriages which drive within the planned Zero Emission have already agreed timelines for zero emissions fleets across Oxford and will not be subject to charges.
Transport accounts for around 75% of nitrogen dixode pollution in Oxford with 50 tonnes of CO2 emitted each morning in Oxford during rush hour.
Over the last decade pollution levels in the city have decreased by 36.8%, however that fall seems to have plateaued in the most recent data which say a fall of just 0.23% in between 2017 and 2018.
Oxford City Council recently announced £19million in its new budget (for 2020/21) to tackle the climate emergency.
From January 2020, all Hackney Carriage Vehicles licenced in Oxford will be moving towards becoming zero emission by 2025.
The councils are also working with bus companies operating to move towards zero emission by 2035 at the latest.
Proposed Red Zone charges:
| | | | |
| --- | --- | --- | --- |
| Vehicle | 1 December 2020 to 30 November 2024 | 1 December 2024 -2030 | 2030 onwards |
| Car | £10 | £20 | £20 |
| Light commercial vehicle | £10 | £20 | £20 |
| Heavy goods vehicle | £10 | £20 | £20 |
| Moped or motorcycle | £10 | £20 | £20 |
| Blue badge holder | £0 | £20 | £20 |
| Vehicles registered to businesses within the zone | £0 | £10 | £10 |
| Red Zone residents' vehicles | £1 | £2 | £20 |