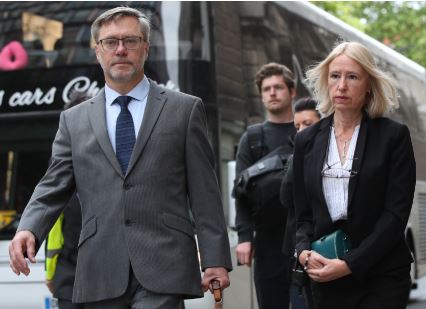 PIC: Yui Mok/PA Wire
Sally Lane and John Letts are on trial, accused of sending money to their Muslim convert son in Syria.
The couple, from Chilswell Road, allegedly sent or tried to send a total of £1,723 to Jack Letts, dubbed Jihadi Jack, after he left home in Oxford at the age of 18 and joined Islamic State.
In a closing speech at the Old Bailey, prosecutor Alison Morgan QC said: "Parents turning a blind eye to the obvious is not a defence.
"Saying they wanted to help Jack is not a defence.
"They had every reason to expect the worst; they just in fact did not want to hear the truth."
She said nobody wanted them to commit the offences and many people begged them not to let their son travel abroad in the first place.
She told jurors: "I'm sure it was no part of these defendants' hope for the future that involved their son travelling to Islamic State and them committing criminal offences in order to try to support him.
"The fact nobody wanted this to happen does not change reality. It does not change the fact these defendants committed these offences they are charged with. They are not beyond the law.
"This trial was in many ways characterised by these defendants' complete refusal to accept the reality that all those around them could see.
"You may think that a lot of people have spent a long time trying to stop these defendants ending up where they are today.
"People who have told you from the witness box that they had genuine sympathy for them and were just trying to help them, but people who were, I'm afraid, met with an unreasonable attitude."
She said it was only "natural" to have every sympathy with the defendants as parents.
But she added: "Their desire to help their son cannot come before the need to protect the public.
"Once Jack Letts made the decision that he did to follow Islamic State to Syria and live in Islamic State territory and to defend its ideals and goals, the normal parenting rules for what you can do to help your child change.
"Because the laws are not just to protect the Letts family, they are there to protect everyone.
"The rules are there, quite obviously, to stop the flow of funds into terrorist organisations."
Organic wheat farmer Letts, 58, and Lane, a former fundraising officer, 56, have denied three counts of funding terrorism.
Earlier, Judge Nicholas Hilliard QC told jurors to consider what any reasonable person would have known or suspected the money was for, given the information the defendants had at the time.
In connection with two charges relating to later attempts to transfer funds, he said the jury could consider whether or not the defendants were acting "under duress", fearing their son was in serious danger.