The OX5 Run Returns!
The Oxford Mail OX5 Run is sprinting its way back to Blenheim Palace.
Sunday 29th March, 10am.
Trainers? Check.

Water bottle? Check.

Athletic ability?

Two out of three ain't bad.

But that won't stop JACK doing the OX5 Run.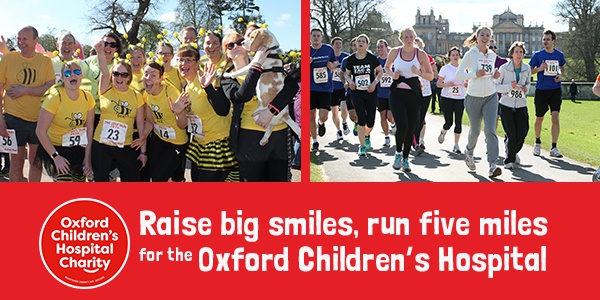 Walk, run or lightly jog five miles around the rather fancy Blenheim Palace
Get a team together, we have and if we can, any of you can.
Raising money for Oxford Children's Hospital - helping young families when they need it most.

We'll be there – catching our breath at the start line.
The Oxford Mail OX5 Run. Sponsored by Allen Associates.
You can find out how Oxford Hospitals Charity makes a difference across your local hospitals by clicking here!
For full info on the event, click here.

JACK 3 app
You never know when you might need a bit of a chill out. Be ready wherever with our free app.

Fancy a break?
Don't worry about it, just pop the sign up and we'll look after things here.